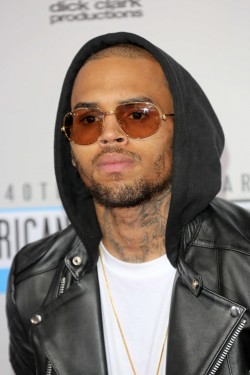 Chris Brown has been accused of punching a woman in Las Vegas this weekend.  The woman's name is Liziane Gutierrez.  She says she was at a party Chris threw in a hotel room Friday night.
Early Saturday morning, she tried to take a picture of Chris with her phone, and he beat her up and took it.  Then he had her tossed from the room.  She posted a picture of what looks like a small bruise under her eye.
A rep for Chris says he never touched Liziane, she was booted from the party for being out of control, and just wants revenge.  Police are investigating, but they haven't had a chance to talk to Chris yet.
Chris posted a video saying Liziane is just looking for a payday.  He added, "I don't know this old-lookin' [B-word], she probably came into my room and was too ugly to get in."
He deleted it, but TMZ was able to grab it before it disappeared.   (WARNING!!!  The video contains uncensored profanity.)