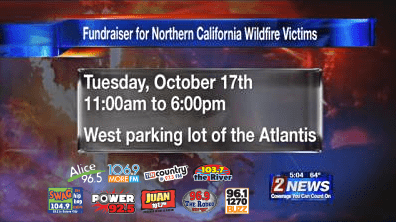 This station, and Channel 2 News are conducting a fundraiser to help those affected by the destructive wildfires burning in northern California.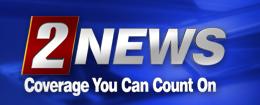 The event is on Tuesday, October 17th from 11 a.m. to 6 p.m, in the west parking lot of the Atlantis Casino located on the corner of South Virginia and Peckham Lane.
The Red Cross will be accepting cash and checks donations only. Checks can be made out to the American Red Cross with California Wildfires written in the memo line.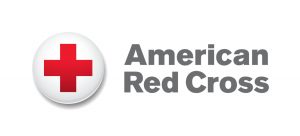 A lot of our fellow Americans are hurting.  In quick succession, a vicious hurricane season taking lives and leaving thousands on our Mainland, Puerto Rico and the U.S. Virgin Islands homeless; close to home, the targeted mass killing in Las Vegas.  Now our neighbors to the west in an area beloved for its beauty and industry–Wine Country, have endured mass destruction and loss of life due to wildfires. Over 3,500 homes and businesses have been destroyed.
The rapid timeline of these disasters may seem overwhelming, and indeed the needs of many of those affected is large in nature.  As Americans unite to bring relief, there are reports of disreputable fund- raising campaigns and scams posing as charities.  If you would like to help in relief efforts, please take care that your donations will be directed to those intended.  You'll find a list of legitimate organizations actively working to provide aid and relief below.  There are likely other organizations and legitimate efforts to help, those mentioned below have proven to provide relief when tragedy strikes.
Donate Blood

The response at United Blood Services offices in Northern Nevada has been so good, that they are now asking that you go to www.bloodhero.com and make an appointment if you wish to donate blood. Remember, donating blood regularly year-round is the best way to help!
Katie Grace Foundation is collecting items needed by families affected by the Northern California fires
Toiletries
combs/brushes
toothbrushes/toothpaste
feminine products
razors/shaving cream
deodorant
Sleeping bags
pillows
blankets
Pet food
Flash lights/batteries
Stuffed animals
Location drop offs 
NNJ Volleyball Club
1575 Linda Way #101
Sparks, NV 89431
Sunday between 8 and 11am
KT Grace Foundation Headquarters
2200 Keever Court
Reno, NV 89509
Rayco Drywall
1933 Frazer Ave
Sparks, NV 89431
Rayo Drywall has so generously offered to drive the donations to Santa Rosa next week.